What matters more: having the best product? Or the best overall solution?
Comparing video conferencing tools and what it takes to build something users love
Happy Friday reader! Thanks for subscribing.
First, a quick appetizer
In my other newsletter, Everyday Eclectic, I inspected a band's website HTML to discover this fun little detail:
Do you have any idea what it is? Not a clue if you ask me. ¯\_(ツ)_/¯
Okay, onto today's main course:
Making the best product vs. the best overall experience
Kevin Hale once taught us about market dominance through one of three methods:
Best price

Best product

Best overall solution
(If you haven't seen this talk, you're in for a treat! Packed with gold.)
He explained how the best products focus on R&D, and the best overall solutions focus on customer intimacy. They dig deep into their customer relationships, and create a far better experience overall. They build their product with a relentless dedication to customer experience, and they become legendary.
On that criteria, let's compare some startups in the video conferencing space.
The big dog: Zoom, the best video conferencing for the price (free)
Last year I switched from appear.in (now Whereby) to Zoom because I needed the ability to host larger meetings and didn't want to pay. Zoom's free plan lets you host up to 100 people for up to 40 minutes. And, to many people including Superhuman's CEO, the call quality is indeed the most important aspect of the product:
But competing on call quality alone is a dangerous game.
When you get tunnel-vision on a single area of your product at the expense of the other critical components, you lose customer loyalty and market share.
I see this happening to Zoom right now. Anyone who follows me on Twitter has probably seen my rage against Zoom the past couple weeks. And this week, I officially said goodbye in my heart:
Truth is, I feel completely worthless to Zoom. They don't care about me as a user, because I'm a free user.
And maybe they're right: Reid Hoffman once explained in a Masters of Scale episode that, during their blitzscale period, Paypal simply had to ignore users for some time, to keep up with rocketing user growth. But. BUT.
Sometimes even at rapid scale you've gotta pay attention to your free users.
Especially if, say, you don't offer support to free users—and they're trying to give you money yet your own checkout page won't load properly. 🙈
Your guess is as good as mine why Zoom can't get their shit together when it comes to non-video product design. They need some passionate Crasher to pitch a Non-Video UX/UI Designer role and then they need to hire them.
Bottom line is, Zoom may win on call quality, but competing on that single thing alone is a dangerous game to play.
Challenger #1: Whereby, the best overall solution
Though I blasted Whereby for their choice of name back in August, they're doing a wonderful job with their product. I'm experimenting with Whereby again for GigLoft coaching calls and loving every minute of it. Nothing about the user experience breaks or is frustrating as all get-out.
It's frictionless, continues to improve in call quality, and—perhaps most importantly to me—they don't ignore their free users! Taking care of your free users is a sure-fire way to increase conversions to paying subscribers.
Whereby is a vision-driven company offering a delightful user experience across the board, from their homepage:
which is leagues more appealing that Zoom's heavy corporate style:
Whereby strives for simplicity and beautiful, obvious design in everything they do:
Notice all the little details? The increasing number of participants on the right side of the first screen? The recording icon? Of course you did, that's why you're on this newsletter. 😀
Since I was last using it, Whereby also added a couple excellent features:
Picture in picture
This works exactly as advertised, and it's a game changer for collaboration.
Start meetings from the extension
With two clicks, you can open any room you own. It's a simple but clever trick for anyone who prefers it over bookmarks or cached URLs:
I'm no developer, but I bet this is going to be a kick-ass value prop for any technical team that wants to white label the software.
Excited to see how Whereby continues to evolve!
Whereby is free for yourself w/ 1 room, then starts at $10/month.
Challenger #2: Around, extreme simplicity
If you haven't discovered Around.co yet since they won #4 Product of the Month on ProductHunt back in March, the thesis is simple and powerful: take away everything about video conferencing, except the faces, and put the focus on what you want to be doing:
They already have a Slack integration that works perfectly: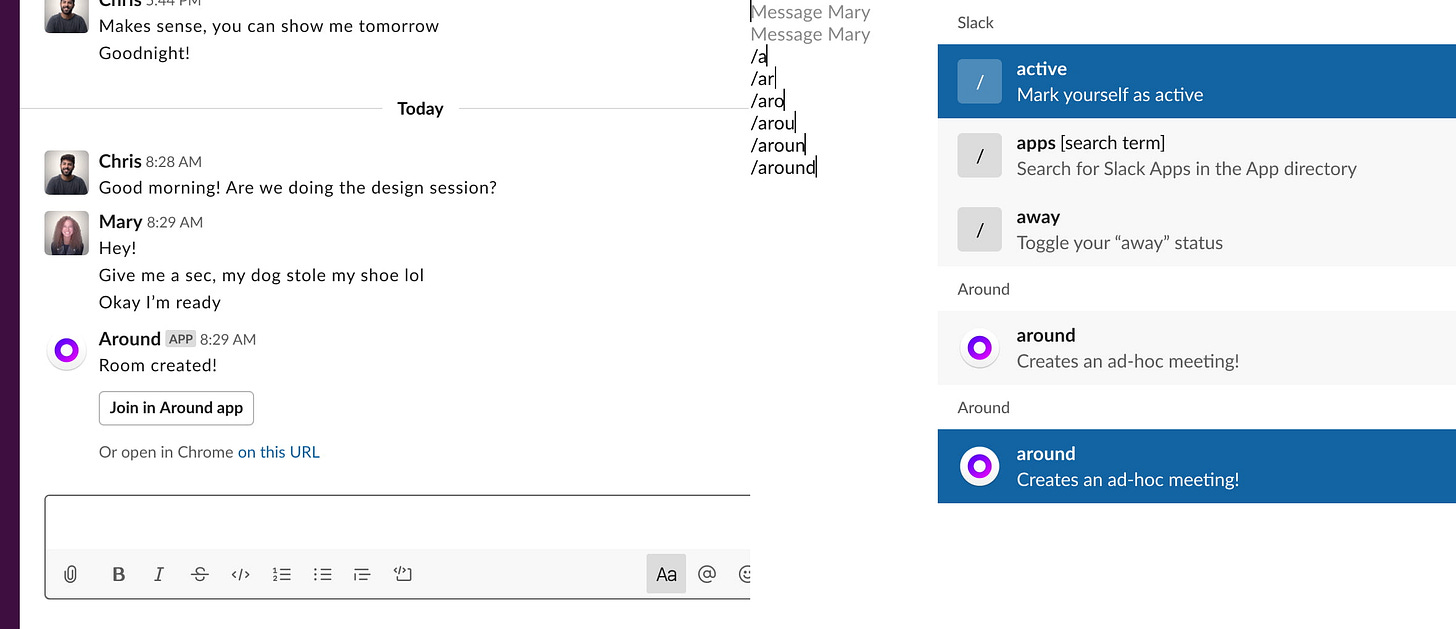 And boast little yet essential UX details like this "tap twice to confirm" leave button:
As well as really interesting AI-based features like "zoom to your face" and muting ambient sounds automatically.
It's a very promising product, and their team responds to support emails super quickly! They're getting a decent amount of organic buzz on Twitter, too. Props to them, excited to see how they evolve.
Around is currently in free beta.
Challenger #3: RemoteHQ, feature-rich and built for customization
Another Product Hunt winner (#1 Product of the Day, Oct. '19), RemoteHQ seeks to serve a far different audience: those of us who want ultimate collaboration within the conferencing tool, not without.
Similar to how Notion pioneered "blocks," RemoteHQ is pioneering resizable "tiles" that can contain people and powerful 3rd party apps:
I know the RemoteHQ founders personally because they responded gratefully to a couple emails I sent them, and are clearly serious about gathering & incorporating user feedback into their product development. It's inspiring!
RemoteHQ costs $15/user/month after a 30-day free trial.
Who will win the video conferencing market?
I didn't mention a few other options in this space, like Google Meet (they're not a startup), Slack (video is a feature, not core), or the other big players (not startups; too "corporate" and baked-in).
It's too early to really say, but long-term, I believe Whereby is going to win a significant chunk the market.
They, along with RemoteHQ and Around, are already capturing large swaths of Google's and Zoom's market who, like me, are beginning to feel alienated and ignored.
This is something I love about software startups: build the best tool for a certain segment. Know who you serve and what their specific needs are (as opposed to what "everyone" needs) and you've got something defensible.
As long as call quality is good enough, the big race will be won by the team & product that delivers a 10x better overall user experience than the others.
Bonus discovery: Restream
(not a conferencing tool)
We've started hosting AMAs for GigLoft members, and I was looking for a solution that would allow us to stream into our Facebook Group, YouTube channel, and more. Restream looks like a great solution, boasting some very valuable features including streaming to many platforms (and speaking directly to the animal-lover in me)…
They just seem to be the kind of company I want to give my money to:
How cute is that? Let's see if the product is as good as the marketing.
• • •
Anyway, that's all for this week. Which of the above tools are you using? Which were you excited to learn about?
Let me know what products you're discovering & loving—just hit reply and say hello.
Thanks for tuning in,
-jtc